One of the 7 wonders of the world is located Indonesia.  It is "Borobudur Temple" or – in Indonesian – Candi Borobudur.  Its place is near Magelang City of central Java province. Borobudur is the world's largest Buddhist Temple with Stupa and Candi architectural style.
The temple itself is divided into 6 squares platform housing 504 Buddhist statues.   The main dome located at the top of the center surrounded by 72 Buddha statues. The Borobudur's wall decorated with 2,672 relief's panel indicating the history of Budha. The panorama of the temple as well as its history made the temple is one of tourists' destinations.  UNESCO listed Borobudur as World Heritage Site.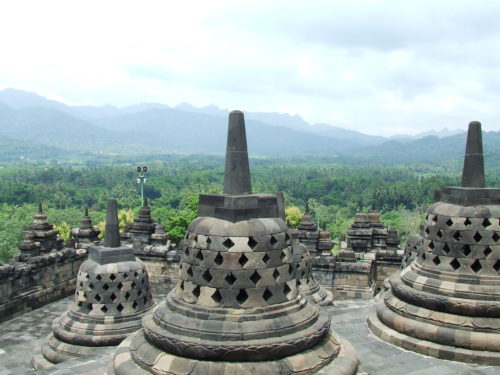 The best time to visit the temple is before sunrise.  Take your torch and go to the Borobudur whilst it is still dark.  Physically you must be ready as you will climb number of stairs to reach the top.  Once you already at the top, you can watch the amazing sun rise behind the mountain of Semeru in the distance and surrounded by valleys that will create extraordinary view.
Another place you can visit is museum.  Bolrobudur has two museums that located within Borobudur Archeological Park.  They are Karmawibhanga Museum and Samudraraksa Museum.  Both are located inside the park which just few hundred meters to the north from the temple.  No need to pay another ticket as it was included once you buy your entrance ticket to the temple.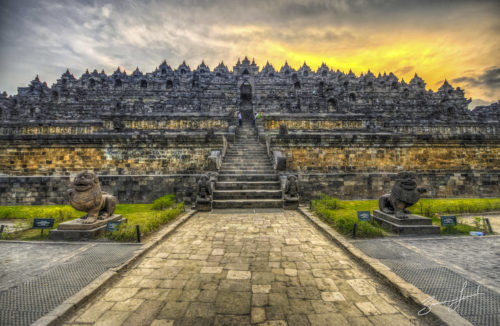 The Karmawibhanga Museum displays archaeological findings around Borobudur.  The most interesting exhibitions in Karmawibhanga is about the law of karma reliefs with explanatory comments and photo galleries of late 19th century.  The photo was taken before the complex restoration.
The Samudraraksa Museum display the actual size of Borobudur Ship as well as it displays the maritime technology and trade network during 8th century with Asia and Africa. That is the oldest museum in Indonesia. It is well-known and famous as the Cinnamon Route that linked Indonesia to Africa for many centuries earlier. The Museums are open daily from 6 A.M.  – 6 P.M. and an entry ticket is included with the main Borobudur ticket.