Everyone wants to travel, but no one wants to travel with bad hair. We have updated our "Best Travel Hair Dryers 2017" list to include our favorite hair dryers for 2018! Between the 4 new 2018 additions and what we recommended for last year, you will be sure to find the best travel hair dryer on the market.
For some, hair dryers are an important part of ones daily routine ― from morning makeup to getting ready for a night out. And if you're part of this group, then owning a handy and reliable travel hair dryer for your travel escapades is a must. Look no further as we list down the best of the travel hair dryers you should invest in.
JINRI Dual Voltage Travel Hair Dryer – 2018
One of the main features that seems to make Amazon reviewers fall for this products is its girlish pale pink and white color, the JINRI 1875W Travel Hair Dryer has a number of features that make it a perfect choice for travelers who like exploring new places while having a seek and shiny hair. The JINRI 1875W Travel Hair Dryer is extremely easy to store, not only because it is small but it also features a fold-able handle, a removable concentrator and a hanging loop on the power cord. Since it can be packed away to just 9.45" x 5.5" x 4.72", this hairdryer is a great option for backpackers. Furthermore, the dryer allows travelers to switch between 125V and 250V. This means it is a great choice for people who travel internationally!
And there is more! This incredible 1,875-watt dryer can dry your locks in no time, even if you have long, thick hair. In addition, since the dryer's ceramic tourmaline air outlet releases negative ions repelling positive water ions, you can say goodbye to frizzy hair and prepare yourself to enjoy the smooth and shiny look you always dreamed about!
The Bottom Line: It has amazing features and it's powerful enough. It makes a great choice for travelers!
Revlon Compact Travel Hair Dryer – 2018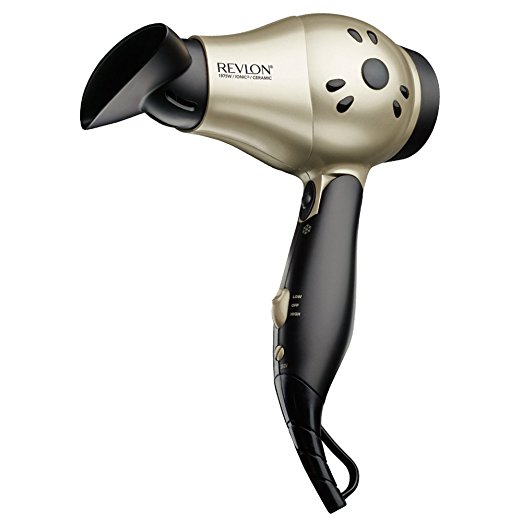 Unlike the JINRI 1875W Dual Voltage Travel Hair Dryer which stands out of the crowd with its charming colours, Revlon 1875W Compact Travel Hair Dryer seems to be preferred by many travelers for its worldwide dual voltage compatibility, lightweight and extremely affordable price. Though many seem to love the champagne color, the 1875-watt dryer might not be the prettiest of them all but, it helps travelers achieve beautiful hair wherever they go and, thanks to its compact design with folding handle it is very easy to carry no matter if you plan to travel abroad or just go to the gym.
Revlon 1875W Compact Travel Hair Dryer comes with the so much desired anti-frizz ceramic coating with ionic propulsion, reducing hair damage and unwanted frizz while making your hair shiny and sleek. In addition, the dryer comes with a smoothing concentrator attachment which will stop your hair to blow everywhere. Not to mention the dual voltage ability that will come in handy when visiting foreign countries.
The Bottom Line: It has power but it is and looks cheaper than the rest. Not the worst choice but, even if an affordable option, definitely not the best!
Conair Cord Keeper 2-in-1 Styler – 2018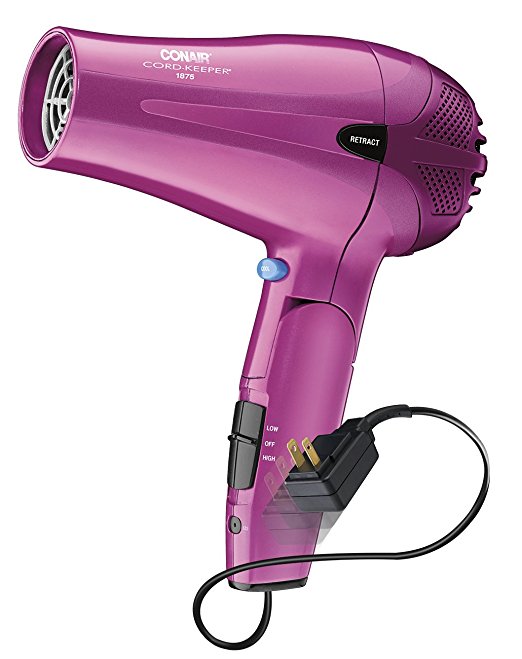 Considered by many travelers the best dryer with a retractable cord, the Conair 1875W Cord Keeper 2-in-1 Styler is also the favorite accessory of all fashion enthusiasts, thanks to its metallic pink color. However, besides the retractable cord which makes it impossible for it to get tangled in your bag, the reason why people keep choosing this product is its folding handle, and the fact that it only measures 4" x 9.9" x 8.6". It is perfect for backpackers, isn't it? In addition, the Conair 1875W Cord Keeper 2-in-1 Styler has a1,875-watt motor, the tourmaline ceramic technology that protects your hair and it also features a dual voltage switch, making it easy for travelers to take it all over the world.
Furthermore, the dryer comes with a detachable concentrator and diffuser, giving you the chance to try new hairstyles and look pretty even when traveling around the world.
The Bottom Line: Best option for fashion travelers who want both looks and features! Has everything you need at a good price.
Andis Fold-N-Go Ionic Hair Dryer, Silver/Black – 2018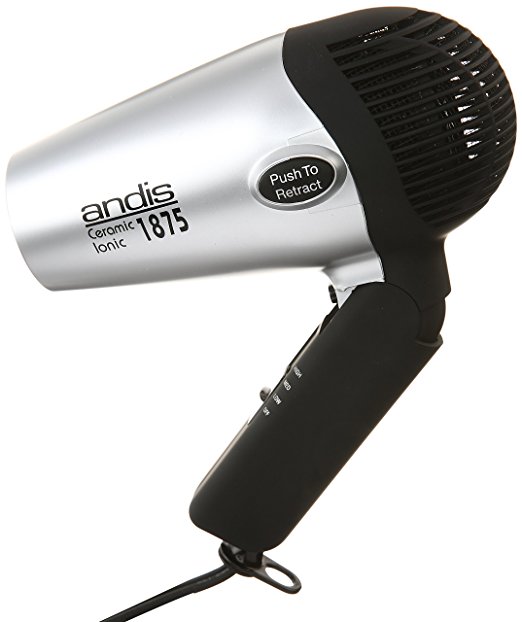 Another interesting hairdryer suitable for light travelers from all over the world who want to have everything they need in their bag is Andis 1875-Watt Fold-N-Go Ionic Hair Dryer. The 1875-watt dryer brings more than power and efficiency. It offers its users the chance to achieve a product with a great design and extremely useful features at a very affordable price. The Andis 1875-Watt Fold-N-Go Ionic Hair Dryer comes with a fold-able handle and a retractable cord that will make it easier for you to pack and carry it. In addition, it has a ceramic construction as well as negative ion propulsion technology that will keep your hair healthy and reduce the unwanted frizz everybody runs away from. Not only do the ions reduce "frizzies" but they are also conditioning your hair, leaving it smoother and silkier. And the great news is that you can see the results just after your first use.
Last but not least, the Andis 1875-Watt Fold-N-Go Ionic Hair Dryer has a great silver-and-black finish, as well as a very stylish aspect, being a perfect choice for fashion lovers.
The Bottom Line: Powerful, easy to pack and carry, as well as affordable! Great option!
BaBylissPRO Ceramix Xtreme Dryer – 2017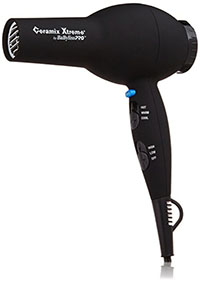 With more than 2,000 positive reviews coming from Amazon, the Ceramix Xtreme Dryer from BaBylissPRO tops the travel hair dryer chart. Well, technically it's not surprise because this amazing product is a creation from the world leader hair care & styling tools brand, BaBylissPRO, which continuously creates professional and reliable items for everyone. This particular product features everything you need for an unswerving travel hair dryer― powerful 2000-watt, 6 speed heat setting, micro concentrator, narrow barrel, removable filter and so much more. So, if you're struggling with thick and heavy hair for a long time, this hair dryer is great for you. Set the dryer on high setting, and it will dry your hair fast without any fear of hair breakage because of the ceramic technology and ionic conditioning that comes from within. These features add shine, and shield your hair from heat damage.
And of course, the end product of this dryer speaks for itself― naturally stylish strands, frizz-free hair and shiny tresses. Don't worry because the hair dryer is very compact and even comes with a folding handle for easy travel storing. Not only that, it has dual-voltage so you can use it anywhere.
The Bottom Line: Complete with amazing features, though quite pricier compared to others.
BaBylissPRO Tourmaline Titanium Travel Dryer – 2017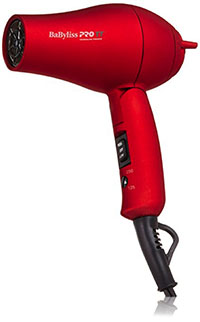 Another notable choice from BaBylissPRO is the BaBylissPRO Tourmaline Titanium Travel Dryer. The product is much more affordable than the previous one yet brings almost the same great features. Tagged as the 'amazing little dryer', this 1000-watt dryer is downright perfect for any traveller who hates too much weight yet needs a compact hair tool wonder. And when we say 'amazing little dryer'― it only weighs 1 pound and takes up just a little more space than a soup can. Yes, laugh at its size comparison but you'll surely fall head over heels with this petite yet powerful travel dryer.
Comes with a dual voltage for versatile usage and far-infrared heat for damage protection, this hair-styling product is a charm to every hair aficionada/ traveller on-the-go. And to top it all, it is infused with pure gemstone tourmaline quartzes for shinier and healthier strands.
The Bottom Line: Small and terrific! Worth the price though not as powerful as our top pick.
Conair 1875 Watt Soft Touch Tourmaline Ceramic 2-in-1 Styler – 2017
To complete the top list of travel hair dryers, we have the charming Conair 1875 Watt Soft Touch Tourmaline Ceramic 2-in-1 Styler― an 1875-watts tourmaline ceramic technology hair dryer that helps prevent hair damage through the ionic styling and soft touch system. With this amazing hairstyling product, there's no need to spend hours just to blow dry your hair. The high-torque DC motor makes drying easier and faster, even if you're a curly head. Yes, the product is adorably great for everyone because of its diffuser that defines the natural waves and curls. Aside from that, the concentrator permits a fixated airflow for a smoother and sleeker hair, and the soft surface allows a more comfortable grip.
The Bottom Line: The cheapest of the travel hair dryers but still convenient for your travel needs.