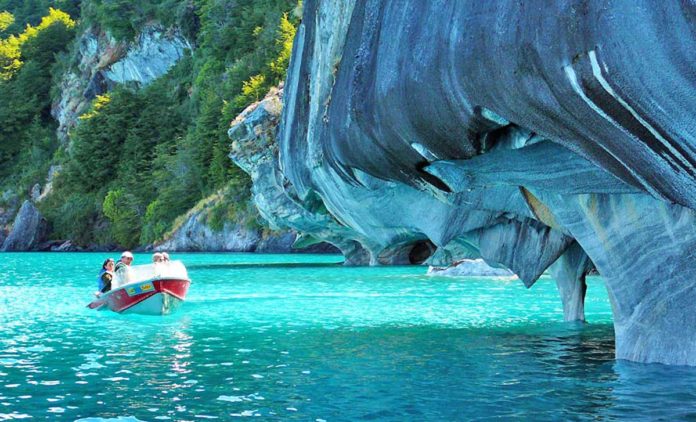 When we are going to the cave, normally, it is identical with darkness and spooky. However, it is different what you will find in Chile. Chile has a very astonishing cave with a beautiful blue color called Capillas de Marmol.
Capillas de Marmol or Cuevas de Marmol is located in Andes Mountains, Patagonian area. Capillas De Marmol is near with General Carrera Lake that located remotely between Argentina and Chile borders. General Carrera is the second largest freshwater lake in South America. The lake is formed by fluvial erosion since 6,000 years ago.
The wall of the Capillas de Marmol is reflected from the blue water from the lake that changes its color and intensity depends on the water level and times.
Amazingly, the maze of this marble cave is very big for a small boat to pass by. The water erodes the marble and makes some gaps or holes. Capillas de Marmol is far from the main road. The visitors can reach the cave only by boat.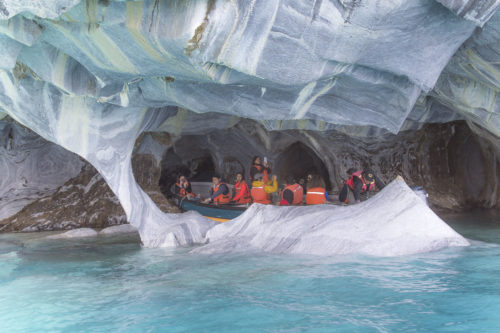 To explore the cave, we can join a tour with any travel agent provided. The tour usually takes about 30 hours with one condition, good weather and the water condition allows them to go.
There is a different nuance once we explore the cave. The colors reflection depends on what is available under the lake. Sometimes the wall reflected by white color, red, or blue. Besides exploring the cave, we can so some activities like fishing Trout and Salmon fish.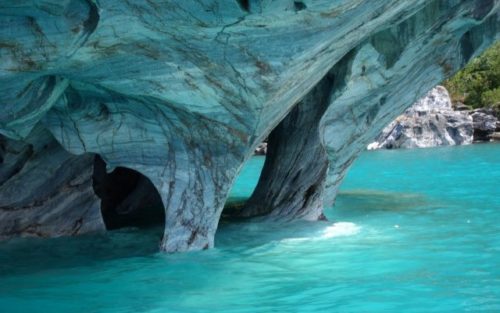 Apart from Capillas de Marmol, we can enjoy another beautiful landmark near Capillas De Marmol which is called Marble Cathedral.Marble Cathedral is also a cave that located just beside General Carrera Lake.
The best time to visit the cave, especially for photography, is at sunrise. Book your boat one day before and you have to stay in Puerto Rio Tranquilo.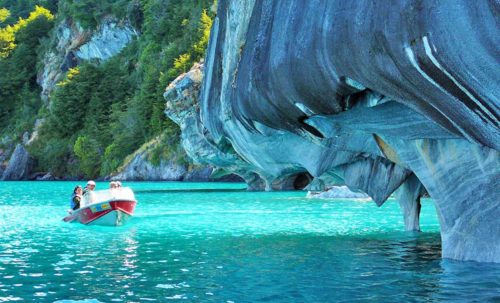 You can start the journey from Coyhaique, the capital city of Aysen Region, by renting a car and heading to Puerto Tranquilo. Or else, to avoid any problems, you can find many tour companies that offer all inclusive excursions to the cave. Alternatively, you can ride a bus for about 6 hours from Coyhaique to Puerto Río Tranquilo.`