Have you heard about Bora Bora? It is small island in the Leeward group (Pacific Ocean). It is located 143 miles northwest from Papeete in the middle of Pacific Ocean, part of French. This place is international tourist destination. Many foreigners go to this place to enjoy the beautiful view of beach. The best area for diving is really offered by Bora Bora. Besides, it is well-known with aqua centric.
Transportation could be got easily there. You can rent cars or bicycle since it was recommended as method of transportation. Beach activities such as scuba and snorkeling will be fantastic if you do it in Lagoon. Those activities are commonly conducted there. You can enjoy species of sharks and rays too and dive operators offering manta ray and shark feeding too.
If you love aqua-bike than snorkeling, you can enjoy it in Bora Bora too. Enjoying the beautiful view and see lots of shark though you cannot dive, aqua-bike is the right alternative for you. This activity is kind of safe activity since many tools that support your safety. Then you have to know that Tahiti is the best place to enjoy scuba diving, snorkeling, and aqua-bike.
Enjoying your holiday in different country automatically you have to know the weather there. Weather in Bora Bora on December to March is summer. Actually in these months chance of rain frequently happen more and temperatures slightly higher. For winter is happened on June until October. Winter vocation in Bora Bora is well-known as vacation time.
Before go to Bora Bora, you have to prepare anything that can fulfill your vocation. First, you have to know the weather there in order to avoid you from misunderstanding weather. Next, prepare your flight. In addition, you have to know language spoken there. Then make it sure that you had already know what will you do there.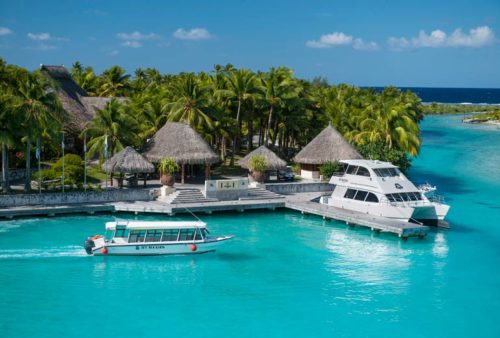 Besides the beautiful view, this island also famous with "romantic tour" so you can go to this island with your couple. Then it will be pretty right choice for couple who has already married and enjoying their honey moon. It will be so romantic honey moon there.
For additional information, this island has unique thing. Actually there is no "B" language Tahitian. This island named "Pora Pora" that means "first born". Special one, this island is pest free zone so no need to worry about insect.