For some, hair dryers are an important part of ones daily routine ― from morning makeup to getting ready for a night out. And if you're part of this group, then owning a handy and reliable travel hair dryer for your travel escapades is a must. Look no further as we list down the best of the travel hair dryers you should invest in.
BaBylissPRO Ceramix Xtreme Dryer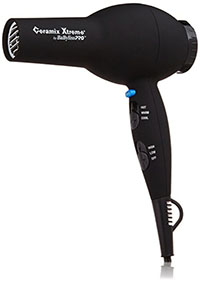 With more than 2,000 positive reviews coming from Amazon, the Ceramix Xtreme Dryer from BaBylissPRO tops the travel hair dryer chart. Well, technically it's not surprise because this amazing product is a creation from the world leader hair care & styling tools brand, BaBylissPRO, which continuously creates professional and reliable items for everyone. This particular product features everything you need for an unswerving travel hair dryer― powerful 2000-watt, 6 speed heat setting, micro concentrator, narrow barrel, removable filter and so much more. So, if you're struggling with thick and heavy hair for a long time, this hair dryer is great for you. Set the dryer on high setting, and it will dry your hair fast without any fear of hair breakage because of the ceramic technology and ionic conditioning that comes from within. These features add shine, and shield your hair from heat damage.
And of course, the end product of this dryer speaks for itself― naturally stylish strands, frizz-free hair and shiny tresses. Don't worry because the hair dryer is very compact and even comes with a folding handle for easy travel storing. Not only that, it has dual-voltage so you can use it anywhere.
The Bottom Line: Complete with amazing features, though quite pricier compared to others.
BaBylissPRO Tourmaline Titanium Travel Dryer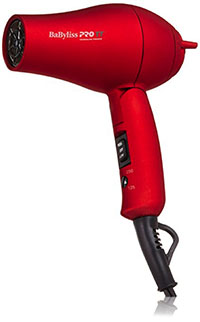 Another notable choice from BaBylissPRO is the BaBylissPRO Tourmaline Titanium Travel Dryer. The product is much more affordable than the previous one yet brings almost the same great features. Tagged as the 'amazing little dryer', this 1000-watt dryer is downright perfect for any traveller who hates too much weight yet needs a compact hair tool wonder. And when we say 'amazing little dryer'― it only weighs 1 pound and takes up just a little more space than a soup can. Yes, laugh at its size comparison but you'll surely fall head over heels with this petite yet powerful travel dryer.
Comes with a dual voltage for versatile usage and far-infrared heat for damage protection, this hair-styling product is a charm to every hair aficionada/ traveller on-the-go. And to top it all, it is infused with pure gemstone tourmaline quartzes for shinier and healthier strands.
The Bottom Line: Small and terrific! Worth the price though not as powerful as our top pick.
Conair 1875 Watt Soft Touch Tourmaline Ceramic 2-in-1 Styler
To complete the top list of travel hair dryers, we have the charming Conair 1875 Watt Soft Touch Tourmaline Ceramic 2-in-1 Styler― an 1875-watts tourmaline ceramic technology hair dryer that helps prevent hair damage through the ionic styling and soft touch system. With this amazing hairstyling product, there's no need to spend hours just to blow dry your hair. The high-torque DC motor makes drying easier and faster, even if you're a curly head. Yes, the product is adorably great for everyone because of its diffuser that defines the natural waves and curls. Aside from that, the concentrator permits a fixated airflow for a smoother and sleeker hair, and the soft surface allows a more comfortable grip.
The Bottom Line: The cheapest of the travel hair dryers but still convenient for your travel needs.